In Memory
Toni Williams (McHugh)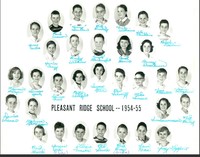 Toni Sue (nee Williams) McHugh of Deer Park. Preceded in death by her parents, Joel and Margaret Williams and her husband, Michael McHugh. Survived by her daughter, Patti (Phil) Muenchen; grandchildren, Robert and Maggie; brothers, David Williams and Alan Williams; numerous nieces, nephews, and friends; and long time companion, Jeff Meyer. Passed away April 24, 2015, at age 71. Private services have been held.
--Tufts Schildmeyer Funeral Homes, April 26, 2015
---
Toni's Woodward nickname was "Wee Willy," and her school activities included Girls' Glee Club 2; Chi Delta Beta 2, 3.
---
Toni is third from the right in the top row of this photo from our Class Photo Albums.