In Memory
William Salzer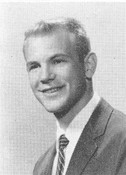 John William Salzer, 26, was shot and killed Nov. 19, 1969, in his office at Ft. Riley, Kans., by a fellow soldier. Capt. Salzer, according to press reports at the time, was a graduate of the Medical Service Corps Training school at Ft. Sam Houston, Tex., and was commanding officer of the Medical Holding Company at Irwin Army Hospital, Ft. Riley.
Bill had arrived at Ft. Riley on March 2, 1969, from Okinawa.
According to press reports, Bill's killer was a patient at Irwin and under Bill's command. The assailant was being assigned to a detail by Bill when the soldier shot Bill. The assailant had been in the Army for 14 years and had been a patient at Irwin since Aug. 29 for treatment of a head injury, according to the Manhattan (Kans.) Mercury.
Bill died of gunshot wounds to the neck and skull.
---
Bill's Woodward activities included Council on World Affairs 4; Phi Beta Gamma 2, 3, Vice Pres. 4.