In Memory
Linda Krasne (Fish)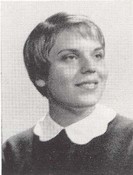 FISH, Linda (nee Krasne), age 70, passed away May 31, 2013, beloved wife of B. David Fish, devoted mother of Allyson Fish and the late Melanie Fish. Services Weil Funeral Home, 8350 Cornell Rd., Sunday, June 2 at 12:15PM. Shiva will be observed on Sunday from 3:00-6:00PM at The Seasons Nursing Home, 7300 Dearwester Dr. in Kenwood. Memorial contributions to Hadassah or the charity of one's choice would be appreciated.
Click here for Service Location Information
Click here for Cemetery Information
Click here for Shiva Location Map
Shiva Location Address:
7300 Dearwester Dr.
Cincinnati, OH 45236
---
Linda's Woodward activities included Bulldog Barks 2, 3; Spanish Club 4; Girls' Glee 3.