In Memory
Michael Frank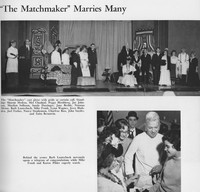 Michael J. Frank was killed Aug. 23, 1990, during a robbery attempt in New York's East Village, where he lived while pursuing his career on Broadway. Mike's years at Woodward telegraphed and perhaps informed his chosen career in the theater: Drama Club occupied him in his sophomore, junior and senior years; the National Thespian Society in his senior year. He was the male lead -- crotchety old widower Horace Vandergelder -- in Drama Club's production of "The Matchmaker" during senior year.
After Woodward, Mike graduated from Carnegie Tech in Pittsburgh, where he studied acting and directing. He pursued post-graduate studies in London, and in 1976-77, was stage manager for the pop Broadway hit, "Godspell." His Broadway credits also include: "G.R. Point," stage manager, 1979; "Open Admissions," stage manager, 1984; "Evita" stage manager, 1985; "Before the Dawn," stage manager, 1985; and "Roza," stage manager, 1987 (directed by the legendary Harold Prince).
New York suited Mike, but he was at home wherever there was theater. He stage-managed several national tours of Broadway shows and was well-known and admired by actors, directors, and members of the crews with whom he worked. Mike was considered the consummate backstage guy; his great organizational skills and tough-mindedness were leavened with his irreverent sense of humor.
---
Mike's Woodward activities were: Bulldog Barks 3; Drama Club 2, 3, 4; National Thespian Society 4; Science Club 2; Latin Club 2, 3, 4.