In Memory
Mitchell J. Fram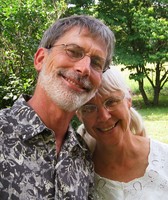 Mitchell Jean Fram passed away Tuesday, February 20, 2007 at 4:45 am at St. Francis Hospital in Tulsa with his family at his side after a long battle with cancer. He was 63 years old.
Mitch was born May 21, 1943 in Cincinnati, Ohio, the son of Harry and Bertha Fram. He graduated from UCLA and went into the Peace Corps in Somalia. On returning to the States, he worked in Peace Corps training in New Orleans and North Dakota. In 1970, he moved to Puerto Rico, where he met and married Kathleen "Kay" Frank in 1973 while both were working in environmental quality for the Puerto Rican government. In 1977, he received a Master's degree in Marine Biology from University of Puerto Rico in Mayaguez.
Mitch and Kay moved to Oklahoma in 1977 and set up the Willow Branch Fish Farm north of Tahlequah, where he lived until his death. He loved his work on the farm where he raised catfish and tilapia. He also raised Angora goats for several years and was looking forward to continuing that work this year.
Mitch spent 14 years working as the Northeast District Area Water Quality Specialist for the OSU Extension Service out of Muskogee, OK, until his retirement in 2006. He devoted much of his time working with several volunteer organizations, including Blue Thumb, the Oklahoma Scenic Rivers Commission and Habitat for Humanity.
He is survived by his wife, Kay, two sons, Jay and Aaron, and brother and sister-in-law, Leonard and Marcia Fram, of San Diego, as well as two married nephews, Steve and Lisa Fram and Howard and Cynthia Fram.
The memorial service will be held on Sunday, February 25, 2007, at 1:30 p.m. at Temple Beth Ahaba in Muskogee. In lieu of flowers the family requests donations to Tahlequah Area Habitat for Humanity.
---
Mitch's Woodward activities were: Showcase 2; Glee Club 4; Der Zeitgeist 2; Camera Club 3; Council on World Affairs 4; Stage Crew 2, 3; Phi Rho Delta 2, 3, 4.
(Photo: Mitchell Fram and Kay Frank, about 2005)