In Memory
Carol Depoi (Forson)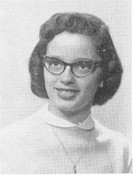 Carol Depoi Forson, 62, died unexpectedly in her sleep on April 29, 2006, at her home in Barnhart, Mo., near St. Louis, where she had moved last year after living in Kansas City, Missouri, for many years.
Carol's Woodward activities included Bulldog Barks, Big Sisters, Art Club, Showcase, "Y" Teens, G.A.A. and Tally-Ho."She was really looking forward to the (45th) reunion and had been talking about it for the past one and one-half years," said her sister, Jean Ellsworth, in Cincinnati. Carol had attended the 40th reunion.
Carol has two children. Her son, Brian, and his wife, Kandace, live in Iowa with 10-month-old twin boys, Connor and Kaden. Her daughter, Lisa, lives in St. Louis with her two children, Tyler, 12, and Madison, 5.
Carol was an X-ray technician and had retired last year [2005] to spend more time with her grandchildren, who, Jean said, "were the light of her life."
Memorials may be made to the American Heart Association.