In Memory
Joseph Dennis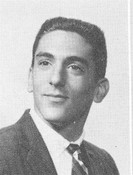 DENNIS, Joseph H., age 69, passed away Dec. 19, 2011, significant other of Kim C. Grix, beloved son of Evelyn Dennis & the late Nathan Dennis, beloved father of Ron & Stephanie Dennis of Botham, TX Shelley & Jeff Weiner & Daniel Dennis of Salt Lake City, UT, dear brother of Pam & Mark Besel of Columbus, OH, loving grandfather of Alex & Tori Weiner, Kaitlyn, Machaella, Savannah & Elliott Dennis. Loyal member of Kiwanis Club & Rotary Club for several years. Graveside services Thurs, Dec. 22, 2:30 P.M. at United Jewish Cemetery, 7885 Ivygate Ln., Montgomery, OH 45242. Memorial contributions to American Lung Assoc. would be appreciated.
--Weil Funeral Home, Dec. 19, 2011
---
At Woodward, Joe (Joey) Dennis was active in Drama Club 3; D.E.C.A. 4; Council on World Affairs 4; Tennis 4; Phi Epsilon 3, Pres. 4.