In Memory
Sara Daniels (Lambing)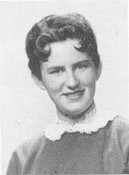 Sara Daniels Lambing

August 18, 2000
Sara E. Lambing Founded
Operation Orange Ribbon
By Janinne Thompson
(The Cincinnati Enquirer)
Sara Ellen Lambing, the woman behind Operation Orange Ribbon during the Persian Gulf War, died Aug. 11 [2000] from inoperable cancer at Good Samaritan Hospital. She was 57.
"My sister would probably like to be remembered as a very ordinary woman," said Ed Daniels of Hillsboro, Ohio, "an ordinary woman who other people thought did extraordinary things."
Operation Orange Ribbon, organized by Mrs. Lambing when her son was sent to the Gulf War, became a national movement to remember the servicemen and women serving in the war.
Mrs. Lambing was born in Cincinnati, raised in Bond Hill and attended Woodward High School.
"Most people don't know it," Mr. Daniels said, "but Ellen tried out twice for the Ice Capades. They told her she was better each time, but before her third tryout, she fell on her partner's skate, and that was that."
In 1982, she was named Single Parent of the Year by the Cincinnati Chapter No. 203 and Regional Parents Without Partners organization.
Her son, Naval 2nd Class Petty Officer Tim Young of Kingsland, Ga., recalls that as one of her finest moments. "She was really proud of that," he said.
She married Frank Lambing in 1987 and they lived in Delhi Township.
In August 1990, when Iraq invaded Kuwait, Mrs. Lambing organized Operation Orange Ribbon out of concern for Tim, who was stationed aboard the aircraft carrier USS Eisenhower. She started by giving orange ribbons to local soldiers to keep with them until they returned from the war with them.
It grew into a nonprofit corporation with thousands of volunteers and national recognition. Ribbons flew from the top decks of aircraft carriers, and then-first lady Barbara Bush took one to the White House.
Mrs. Lambing organized support group meetings for families of soldiers serving in the war.
In January 1991 she was voted Person of the Year by Chapter 10 of the Vietnam Veterans of Cincinnati.
In May of 1991, then-U.S. Rep. Charles Luken, D-Cincinnati, read a congressional statement of honor on the floor of the House of Representatives, praising Mrs. Lambing for Operation Orange Ribbon.
She missed the tribute, however. She was at an American Legion Post in Western Hills at a support group meeting.
After the war, she organized Friends of the Military and passed out orange certificates of appreciation to all military personnel she encountered.
"Ellen was outgoing and giving -- always ready to help everyone. Her big love was years ago when she drove a handicapped school bus," her husband said. "She really loved those kids."
Another love was the ocean. She collected shells and made paintings using shells rather than paint.
Since April 1999, Mrs. Lambing had driven a bus for Oak Hills Local School District.
Also surviving are another son, Bill Young of Delhi Township, a daughter, Barbara Young of Delhi Township, and three grandchildren.
A memorial service will be 7 p.m. today at Vineyard Community Church in Springdale.
Memorials can be made to Vineyard Community Church, 11340 Century Circle East, Cincinnati, OH 45246.
Copyright (c) The Cincinnati Enquirer. All rights reserved. Reproduced with the permission of Gannett Co., Inc. by NewsBank, Inc.