In Memory
Rebekah Crocker (Stewart)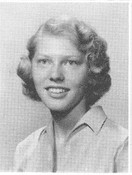 We recently received more details of the fascinating and purposeful life of the late Rebekah Crocker Stewart, a Class of 61 Honor Student and sister of classmate Jim Crocker. After Woodward, she received a B.S. degree in Education from the University of Cincinnati in 1965 and taught for five years in the Cincinnati Public Schools at Carson Elementary School in Price Hill. She was 40 when she died of cancer in 1984 in Columbia, Md., where she'd lived for three years before her death.
Becky, as she was known, has been on our In Memory list since the 25th Reunion, but now we're able to recount more about a brief life that touched many lives.
Her husband, LeRoy Stewart, has shared with us his 1984 eulogy of Becky.
BECKY
by
LeRoy E. Stewart
(with the help of family and friends)
A bright star fell from the heavens the day that Becky Stewart passed from our midst. She is sorely missed by her family and friends. Becky was the representative for Region V of NACAC (North American Council on Adoptable Children) when the family lived in Cincinnati, Ohio. She had been the president of ACT (Adopt a Child Today), Cincinnati chapter. She served on various adoption and foster care review boards.
Her family included six children, four boys and two girls, ranging in age from five to fourteen years. The first was adopted, the second was born to her, the next three adopted (one after a period of foster care) and the last is still in foster care as the first of our children who was not an infant when arriving in the home. [The children were Andrew (b. 1970), Christopher (b. 1971), Julia (b. 1974), Jason (b. 1979) Charles (b. 1979) and an eight-year-old girl, who temporarily joined the family in foster care several months before Becky's illness.]
Becky...was understandably distraught over her impending death for she wanted to "see her babies grow up." She was an able mother who taught her children they were responsible for their actions. She was a loving partner and parent who was cool and capable in crisis and extended her love unasked and unselfishly. Her attitude as a parent in such a family as ours was that all children in general and ours in particular had equal footing in the family no matter their mode of arrival there. In answer to the common question, "Are all those your children?", she invariably responded with, "Yes!" She delighted in people's startled response to the mere presence of the whole family with its obviously diverse ethnic background, though this was by no means the reason the family was put together that way. She had little patience with the "missionary effort" apparent with many who adopted children from other ethnic backgrounds.
She was acutely aware of the racial and ethnic bias her children might experience and did not hesitate to advise others in similar situations of their real and potential problems and of the expedients necessary to cope with them. She became friends with one family of mixed race that had arrived in this country virtually unaware of the nature of the bigotry they would face. She helped them to deal with it honestly and realistically.
Her family sought places to live where they would be surrounded by those with similar backgrounds and would be able to deal with life at the neighborhood level.
Becky touched an enormous number of people in her lifetime. A testimony to that was the incredible support she and her family received before and after her death after having lived only three years in a new place.
She was a very strong person who was impossible to intimidate. When something needed to be said, neither the circumstances nor the company mattered, it was said. Things that she perceived needed doing were done.
She was a tenacious child advocate. She knew what to do to get things accomplished for kids. She made ways when the "powers that be" informed her there were none. She was intolerant of legislators' inactivity concerning the needs of children. These helpless, voteless kids had an able advocate in Becky. Bureaucratic hedging and playing with the lives of children infuriated her. As far as she was concerned, there was no such thing as an unadoptable child. Extended foster care was an untenable position for a Welfare Department to hold. Children should be moved from foster care to permanency expeditiously. This could be back to the original, rehabilitated family or on to adoption, but not the limbo of extended foster care.
She was intelligent, articulate and very persuasive. The legislatures in Ohio and Maryland can bear witness to that. She had developed a network of friends and professionals that allowed her to short-circuit the usual, slow official information channels to get things accomplished for kids. She had a healthy cynicism about life as she found it, yet she could make you laugh when you didn't feel like it, even when she herself was angry. As a parent, her attitude was epitomized by an anonymous quote that's been hanging in the entryway to our home for a long time: "Parents can give their children only two lasting things—One is Roots, the other is Wings."
---
Becky's Woodward activities included Honor Society, 4; Showcase 2, 4; Big Sisters 4; Latin Club Sec. 4; Youth Fellowship 2, 3, Pres. 4.