In Memory
Cecil Burlew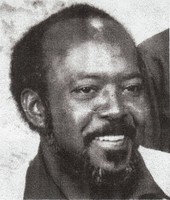 Cecil T. Burlew was born on June 30, 1943, to Ora and Ralph Burlew. He grew up in First Baptist Church of Kennedy Heights. He and Joyce Burlew had two children: Jason and Jocelyn Burlew.
Cecil was a social and outgoing person with numerous friends. He was involved in a number of activities during his life. In recent years, Cecil's health deteriorated. He recently renewed his membership at First Baptist Church.
Cecil departed this life peacefully on Feb. 28, 1996, in his sleep, at the age of 52.
He leaves to mourn his passing: two children, Jocelyn and Jason; two brothers, John and Randall; the mother of his children, Joyce Burlew; and other relatives and friends.
From the memorial service program, March 4, 1996
---
Cecil's Woodward activities were Showcase 2, 3, 4; Basketball, 2, 4; Choir 2, 3, 4; Boys' Glee 4; Jazz Club 2, 3.